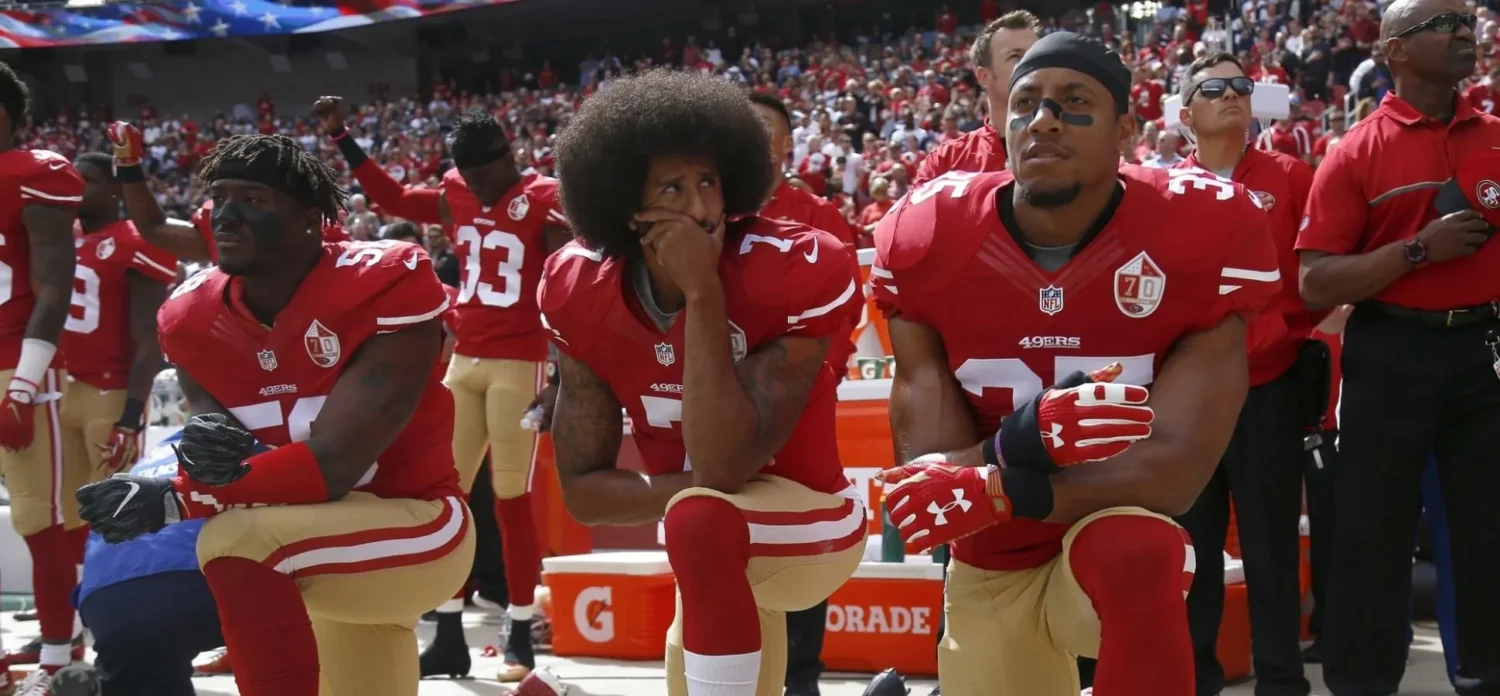 Nike sign Colin Kaepernick: Political activism or business as usual?
20 Sep 2018
Once upon a time, in a not too distant past, sport wouldn't dream of touching politics. Like sets of fans from rivalling teams, the two should not mix or trouble would ensue.
Back in the early 1990s, Michael Jordan was arguably the highest-profile athlete in the world.
The Chicago Bulls star had his own line of Nike footwear and at that time, he was well-known for being hugely reticent about wading into politics, reportedly saying that "Republicans buy sneakers too", in reference to not wanting to alienate a significant proportion of the American public by airing his political views.
In recent years, politics has steadily become a more and more prominent factor within the sporting sphere. In the week gone by, it was confirmed the recent bond between sport and politics is firmly rooted in the society of today.
Colin Kaepernick - an example of corporate capitalisation?
Colin Kaepernick is seen by many as the most political athlete in the world, to such an extent that he now refers to himself as an activist as much as he is an athlete.
Who would have envisaged that twenty-five years on Nike would choose a figure so closely aligned with a political cause, worlds apart from Michael Jordan's unwillingness to air any political views whatsoever in the event a proportion of his potential market became disgruntled.
In contrast, the Nike of today seems utterly unperturbed about upsetting some potential customers. Instead, they have used Kaepernick's activism to line their own pockets.
Despite Nike's new campaign landing a powerful message, it would be foolish for anyone to consider this is about anything other than selling sports clothes brandished with the famous "Swoosh".
The campaign isn't a charitable act or a selfless one.
Nike have been applauded for a political gesture, sport and politics not seeming to mix before, but this isn't activism, it's good old capitalism, same as it ever was.
Nike outperformed Adidas last year - the latter achieved US sales of $5.3 billion, compared with the former's $15.2bn.
After an initial drop in the share price, the Kaepernick campaign generated $43 million in 24 hours, according to reports.
But at least the slogan is a lot snappier than Trump's response to the announcement.
"I think it's a terrible message that they're sending," he said, "and the purpose of them doing it, maybe there's a reason for them doing it, but I think as far as sending a message, I think it's a terrible message and a message that shouldn't be sent."
Crystal clear, Mr President.

Shifting target market feeds into political agenda
Some believed that Nike may suffer, given reactions from critics online, who posted videos burning and cutting up their apparel on Twitter.
But those predictions have been proven wrong in a new report from Market Watch, claiming Nike sales have surged since the campaign debut.
Online sales actually grew 31% from the Sunday of Labour Day weekend through to Tuesday, as compared with a 17% gain recorded for the same period of 2017.
There's a hot debate about whether commercial enterprises should take activist social positions. Like so many things, much depends on whether brands think it is good for business or not.
Nike is the current face for this form of commercialisation. Others will surely follow.
Nike's calculated decision to put out an advertising campaign featuring Colin Kaepernick in celebration of Nike's 30th year of its 'Just Do It' ad series qualifies as the current embodiment of commercial endeavor dressed up as activism.
In terms of its target market, Nike can expect a lot more sales to come from Millennial consumers, who traditionally get onboard with brands who portray a progressive or humanitarian message.
Further to that, this same cohort of shoppers will pay up to 25% more for products made by brands who display the messages outlined above - effectively making some Millennials political putty in Nike's hands.
Big brands could widen political divide
Colin Kaepernick's connection to Nike is also a polarising event.
Companies have historically avoided entering the political fray for fear of one main reason - companies often alienate far more customers than they gain.
That's especially true for big companies.
A brand with a left or right-wing identity can thrive in a smaller niche where most of their customers lean in one direction, but larger-scale operations need to be able to sell into the whole market.
Take the US for example. Divided into distinct camps — geographic, demographic, political — more companies have started chasing explicitly political identities.
The result is a world in which every decision, even where the common US citizen buys their takeaway meal from, has taken on a political aspect.
This scenario is certainly not healthy for the US given its current political state. At this point in time, the country needs more commonalities among its people, rather than more ways to divide into opposing teams.
SMEs mixing business and politics as a recipe for success
As a leading small business accountant, in addition to the more traditional bookkeeping services and tax advisory, we use cutting edge technology to help business owners understand how their business performs, identify opportunities and strategise growth.
In this sense, where business and politics are mixed, the most crucial takeaway for SMEs is the importance of having a thorough, well-researched and refined strategy.
Nike's Kaepernick campaign was two years in the making, which signals a highly thought-out and deliberate strategy which they were confident would result in success.
In stark contrast, unguarded comments from executives at New Balance and Under Armour saw some consumers burning apparel from both brands after they lauded Donald Trump and his trade policies.
In the same way that a lack of planning can unleash mass backlash, SMEs should also be aware that the right political message can help even the smallest brands tap into the biggest markets.
Take Clapton CFC for example. An East London club playing in the 12th tier of English football, Clapton designed an away kit which commemorates the 2,500 men and women from Britain and Ireland travelled to Spain between 1936 and 1939 to defend democracy and oppose fascism.
As a result, this relatively small outfit gained international coverage and an outpouring of support from around the world as the message of their jersey resonated with the political views of many.
This same precedent applies to all SMEs channeling politics into their business - the likelihood is your own political views will match those of your consumer, therefore, understanding the views of your target market and creating products specifically tailored to this is an effective way for smaller businesses to make their mark on larger, more competitive markets.
Entrepreneurs across the UK are increasingly tapping into the social zeitgeist and creating products that make a statement about big issues.
Take the Masks of Fear collection - a satirical and controversial range of masks of world leaders - which stormed into the public eye last year after a turbulent stint of Nationalist politics on both sides of the Atlantic.
El Trump, an image of the US president in a Mexican wrestling mask, proved a bestseller, alongside Kim Jong-un in Mickey Mouse ears.
Further to that, ethical t-shirt manufacturer THTC' boomed last year as consumers have sought out ways to show their unhappiness with the status quo: the firm's T-shirts have been worn by the likes of Ed Sheeran and Woody Harrelson.
Based on the actions of Birmingham-based clothing company Red Molotov, being a small business gives you the freedom to be loud and proud with your beliefs. That being said, pure cynicism never seems to do as well as positive messaging.
Rather than criticising Leave voters, Red Molotov's "We are the 48%" T-shirt proved to be a bestseller following the Brexit vote in 2016, according to the company's website.